Stucco Calgary Repair Ltd.

Fast Estimate & Quote!
Premium Stucco Products!
Covering all of Calgary, AB
Call now: 587-585-8549
Get your Stucco Repair in Calgary Done!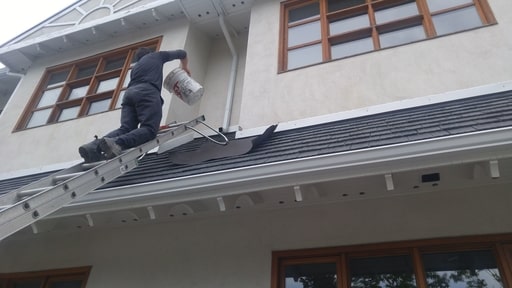 We know how tough it is to find the right person to install Stucco in Calgary, Canada. But even harder is to find someone who does it right.
As one of the oldest ways to cover walls with a durable and good-looking layer, it demands proper and careful application. We know exactly how to do so.
But before you get to know how well we work with Stucco – you should learn precisely why it is a fantastic choice for your home. Here we explain all that and a little more:
What is Stucco?
The traditional mix of Stucco contains cement, water, sand, and lime. This mix becomes a plaster that helps to cover exterior walls in a grainy layer that lasts a lifetime, gives an attractive appearance, and makes your house safer.
It is one of the most attractive yet resilient types of exterior constructions you can get for a house. From rain to hard sunrays, scratching, and much more – Stucco resists everything.
But as reliable and durable as it is, Stucco also takes a lot of effort and time to be applied correctly. For that, you'll have to get someone with experience to do so. Luckily for you, we can be that someone that makes your house look and feel amazing with Stucco.
First, though, learn why it is such a fantastic idea.
Call us today 587-585-8549
For The Fastest & Efficient Stucco Repair Anywhere in Calgary!
Benefits of Using Stucco
You may be asking yourself, "Why would I get my house covered in this?" Well, here we explain all the significant advantages you get with your exterior walls covered with a layer of Stucco:
Maintenance
Stucco demands little to no maintenance. By merely repainting every year or so, you can keep your Stucco walls on perfect state without any additional effort.
Affordable
Stucco is cheap. Compared to stone walls, high-quality painting, and other types of covers that you can get for your exterior walls – this is among the most inexpensive you can get.
Resistant & Durable
You won't have to worry about your Stucco walls cracking or losing paint. They will outlast any other type of cover and will resist even the hardest of rains, sunrays, and other negative factors without side effects.
Color Range
Your Stucco walls can be painted however you prefer. From the most vibrant colors to the simplest ones or a combination of electric tones – you will have thousands of color choices with Stucco.
Good-Looking
It leaves a beautiful grainy texture on the outside while adding a unique appearance that increases your house worth. Getting Stucco is an excellent choice if you want to improve your home's looks.
Minimizes Sound
Yes, Stucco also acts as a sound-protective layer on your house that keeps most exterior sounds outside, and interior sounds inside. You won't be disturbed by your neighbor's car alarm in the night, and no one will listen to any conversation happening inside. 
So, are you ready to get Stucco done in your house? Then don't hesitate and hire us right now!
W

hy Hire Our Stucco Services in Calgary?

 

We apply Stucco in Calgary, Alberta – close to your house and at the most affordable prices. But that's not all – we also offer many other benefits like:
Experience:
We've been applying Stucco to houses for several years. So, we know what you want, and we know how to achieve it.
Types:
We know all about the different kinds of Stucco and how they can be applied to any type of house without setbacks. You won't have any unusual demand that we can't tackle.
Repairs:
If your house needs any repair before we apply the Stucco – we can do so for a fantastic cost. Then, you'll enjoy the restored and new appearance of your home.
Speed & Quality:
We do everything considering your time and money. We feel the urge to deliver the highest quality possible without leaving behind a quick result. You won't have anything to complain about us.
We're Friendly:
Yes, all of our experts and workers take pride in knowing how to handle clients. We won't treat you the wrong way – and we'll always strive to connect with your needs and desires. We'll treat you more like a friend than as a client.
See also: Parging services in Calgary.
Give Us a Call and Get your Stucco in Calgary Done!
We will install, repair, or restore your house Stucco without any hesitation. But first, you'll have to give us a call.
You can call us at any hour and any day of the week, and we'll be there for you. Our 24/7 service works to give your demands a fast and quality response.
Let's arrange an appointment and talk about your Stucco demands! You'll have your Stucco in Calgary, Canada done before you can even think about it!
"Excellent work! These guys provided a quick quote, which was a very reasonable price for what we needed done, and began work almost immediately. They were very professional, cleaned up each day. The quality of work is outstanding, I can't even see where the stucco was damaged anymore - the color match was flawless. We are very pleased - I would highly recommend them."
"For my first income property. I purchased a real fixer upper.I needed a fast, quality and cost effective solution for the exterior. I found this company through google. Needless to say they did an amazing stucco job. I loved the colour they recommended. They sure gave this eye sore some curb appeal. They were friendly and professional. Thank you !!!"
What ever stucco intervention you need, we've got you covered!
Textured Acrylic Finishes
Stucco Repairs
Float Acrylic Finishes
Foam Batten Trim
Reapplication
and more...
Having a long time professional experience and a careful team, we earn our Clients satisfaction always!
Pop in your details and one of our qualified
professionals will be in touch.​
[forminator_form id="730"]